Llanfairpwllgwyngyllgogerychwyrndrobwyll-llantysiliogogogoch
Dit is de naam van een dorp in noord-wales. Het betekent: "The church of St. Mary in the hollow of white hazel trees near the rapid whirlpool by St. Tysilio's of the red cave".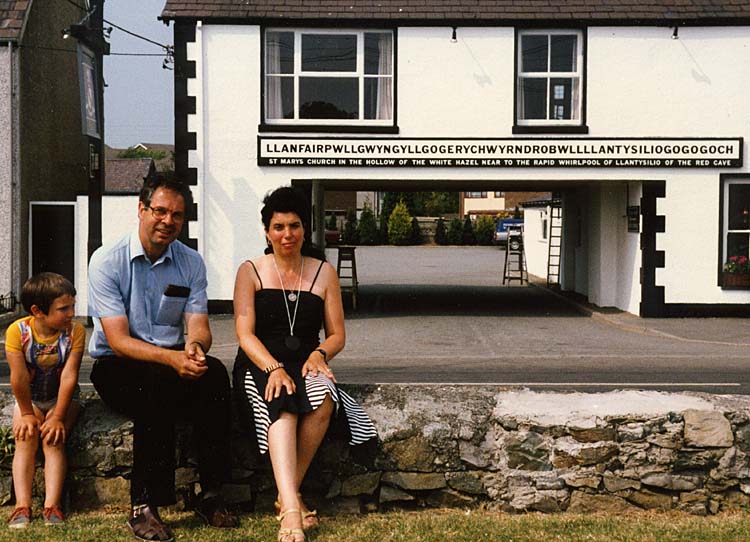 Echter, er is een berg in Nieuw-Zeeland die heet:
Taumatawhakatangihangakoauauotamateapokaiwhenuakitanatahu 
Met als betekenis: The place where Tamatea, the man with the big knees, who slid, climbed and swallowed mountains, known as 'landeater,' played his flute to his loved one. Klinkt meer als een kort verhaaltje.
Maar als je dacht dat dit de langste naam was had je het mis. De naam van Bangkok (Krungthep) in Thais:
Krungthepmahanakonbowornratanakosinmahintarayudyayamahadiloponoparatanaraj thaniburiromudomrajniwesmahasatarnamornpimarnavatarsatitsakattiyavisanukamphrasit
De betekenis hiervan is meer de geschiedenis van de plaats dan echt een naam: The land of angels, the great city of immortality, various of devine gems, the great angelic land unconquerable, land of nine noble gems, the royal city, the pleasant capital, place of the grand royal palace, forever land of angels and reincarnated spirits, predestined and created by the highest devas.
Bronnen: http://www.facstaff.bucknell.edu/rbeard/name.html
https://www.meesterbrein.com/wp-content/uploads/2019/03/logo-meesterbrein-300x54.png
0
0
admin
https://www.meesterbrein.com/wp-content/uploads/2019/03/logo-meesterbrein-300x54.png
admin
2019-03-14 09:04:15
2019-03-14 09:04:15
De langste plaatsnaam ter wereld bestaat uit 163 letters